Mathew & Julie Cooper
About Fannys Bay Distillery
The Coopers have brought whisky making to the northern region of Tasmania. In 2014 distilling commenced and the first barrel was put down in November of that year. Today the distillery's production is well under way with a selection of Bourbon, Port, Sherry, Shiraz and Pinot barrels lying in bond.
Since 2014
Our Story
Tasmania is well known for its whisky. Indeed, liquid gold from here has been named the world's finest and more than 50 distilleries dot the island. There's one though, that is not like the rest. Some would say, it's a square peg on a shelf of shiny round bottles. But that's the Fannys Bay way.
Founders Mathew and Julie Cooper are no ordinary distillers. What business does a diesel mechanic and career hairdresser have in making whisky? Turns out, they have award-worthy business. It was time for a career re-fit. Following a sea change to the northern Tasmanian seaside, Mathew was enjoying a whisky with friends and quipped, "how hard could it be to make a good whisky?"
Whisky making to Mathew was about as familiar as the nearby coastline was to the captain of Fanny, a small sailing ship that blew onto rocks in 1844. A secluded cove nearby was named after the doomed vessel and is a fitting namesake for a distillery that has weathered unchartered waters.
No one had ever set up a distillery on Tasmania's wind-swept northern coast. That didn't deter the Coopers. A gleaming new still was un-affordable. That didn't stop them either. Mathew made the pilgrimage from his Tam O'Shanter back door to his Man Cave shed, several windswept metres, until he'd built his own still. In between, he surfed the waves of Tama point, as he did when he was a boy. Distilling commenced, with the first barrels put down in 2014.
That square peg on a shelf of round bottles … that's about Fannys Bay Distillery not quite fitting. A bit like a city tree changer landing in a new Tassie town, a craft beer lover turning their taste to whisky the first time or a non-conformer heading to uni at 60. At Fannys Bay, it doesn't matter if you're different. You're welcome. In fact, you're warmly embraced at this small-scale, artisanal distillery.
In these parts, don't expect a tour though. There's no big fancy distillery or high-tech automation buttons. There's one man, driving a still by hand. With meticulous passion to honest distilling. That same man tweaks temps based on the weather and hand-chars every barrel; from French Oak to ex-bourbon. His time-honoured way follows the traditional Scottish method. Then comes the Tasmanian touch; the pristine rainwater, infused with nature's perfect dose of sea spray. Years on, the whisky is ready for chief designer Julie to handwrite each label. She's responsible for the distinctive French bottle in all its square glory. And, it's fine cork hailing from Portugal.
Good things take time. The result is a smooth, mature, full palate with a refreshing hint of northern coastal waters to be savoured slowly. Little wonder this scarce drop has found its way into VIP casino lounges and world-class resorts. Few might have heard about Fannys Bay Distillery, but those in the know are swept away by its rare flavour profile and hand-crafted, seaside tale. The saliferous undertones may shift with the seasons – no bottle is the same as the next. But isn't that how a square peg forever is? Not the same as the rest? Fannys Bay will never fit in a round bottle.
Written by Alice Hansen, Tailored Tasmania
Reviews
Happy Customers
Join us at our distillery or one of our events for tastings and one or two of Mathew's famous Whisky talks.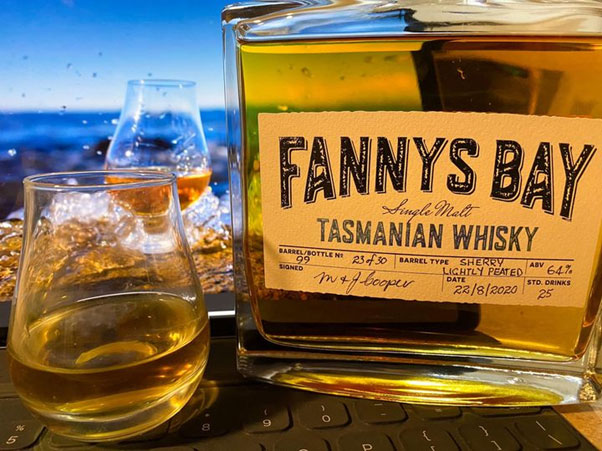 If you're a peat freak and sherry cask lover then check this out. "Lightly Peated" they say, well the peat is front and forefront without being ridiculous. My first guess was Baird's Peated Barley and I think I was bang on with at least a true Scottish peated barley. The sherry cask come through with dare I say a beautiful balance. Sherry cask & peat lovers who have tried Aussie peated whisky, this will surprise you. This is a surprise cask of 30 bottles and I'm diving back in for another!! This is one distillery I hope continues with these bottling's.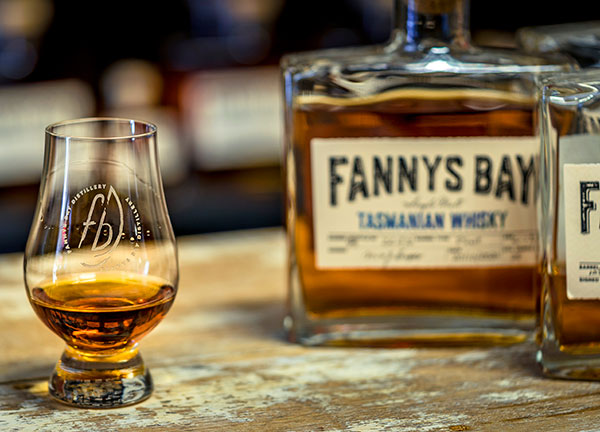 Just a quick thank you for showing Tracey and I around your unique operation and sharing your story and passion for whisky making. Your distillery and the products created which we tasted are certainly something you can be very proud of achieving. You certainly have inspired my 'spiritual' addiction that little bit more . I look forward to settling back and enjoying 'Barrel 47' and of course many more to come & we will keep an eager eye on your upcoming whiskys.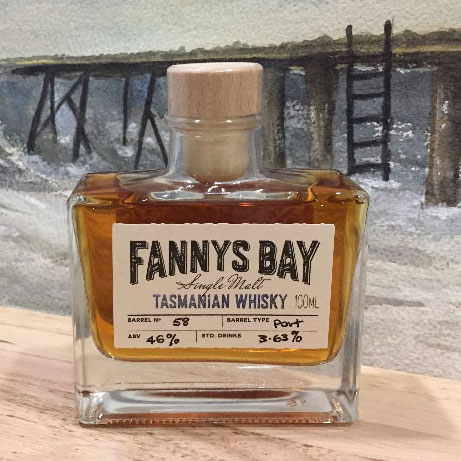 If you're ever passing by Fannys Bay in Tasmania's North-East,
you'll de doing yourself a dis-service if you don't stop in for a visit.
Was lucky enough to spend a couple of hours at Fannys Bay distillery this morning with the owners, Mathew and Julie Cooper. Having travelled throughout Scotland and Ireland, I have to say that this is the most favourite tour I have done to date. Yes they are small-scale but they were both incredibly generous with their time and Mathew offered up some amazing cask samples for me to try, as well as tasting through their full range. Lucky I wasn't driving.
Now onto the actual whisky! I'm not often the first person to praise Australian whisky but they are producing some really lovely whiskies.  My least favourite style is red wine casks but after trying their Shiraz (45%), Pinot (60%), Lightly peated Shiraz (63.4%) and Peated Pinot (63%) my thinking is definitely starting to change. Mathew talked about the importance of sourcing great casks from a local winery who have a natural fermentation. Combined with Mathew's quality new-make, the end result is a whisky that is flavorful, warming but not hot, and definitely not tannic. On top of these, the Bourbon, Sherry, Port, La Biza (floc whisky) and 100% wheat whisky were beautiful too.
If you're ever passing by Fannys Bay in Tasmania's North-East, you'll de doing yourself a dis-service if you don't stop in for a visit.
​What a treat. A must visit if you're in NE Tasmania. Mathew and Julie are so lovely, and you really get an amazing lesson in distilling. Really wonderful! Thank you for having us!!!!!