Tasmanian Whisky
Our current premium selection of whiskies at Fannys Bay, have been maturating in a variety of casks, from French Oak to ex-bourbon to Pinot Noir Barrels. The Fannys Bay range of whiskies are described as a smooth, mature, full palate with a refreshing taste of our northern coastal waters.
Fannys Bay Artisan Distillery is situated on the windswept Northern Coast of Tasmania at the home of Mathew & Julie Cooper. The Coopers have brought whisky making to the northern region of Tasmania. In 2014 distilling commenced and the first barrel was put down in November of that year. Today the distillery's production is well under way with a selection of Bourbon, Port, Sherry and Pinot barrels lying in bond. Fannys Bay Distillery is located at Tam O'Shanter, on the wild and windswept north coast of Tasmania. It's the perfect spot to defrost your fingers after a day of exploring the region's character-filled towns. For Mathew Cooper, the journey to whisky-making started with local people and simple curiosity.
Herald Sun

Tasmanian Whisky Distillery
Tasmania has some of the purest sea breezes, assisting us in creating the unique flavours with saliferous undertones, which our customers have come to expect from Fannys Bay Distillery.
Mathew & Julie moved permanently to Tam O'Shanter in 2005 to fulfil their dream of a sea change; Mathew has had an affinity with Tam O'Shanter since his younger days when he would surf the breaks at Tama point.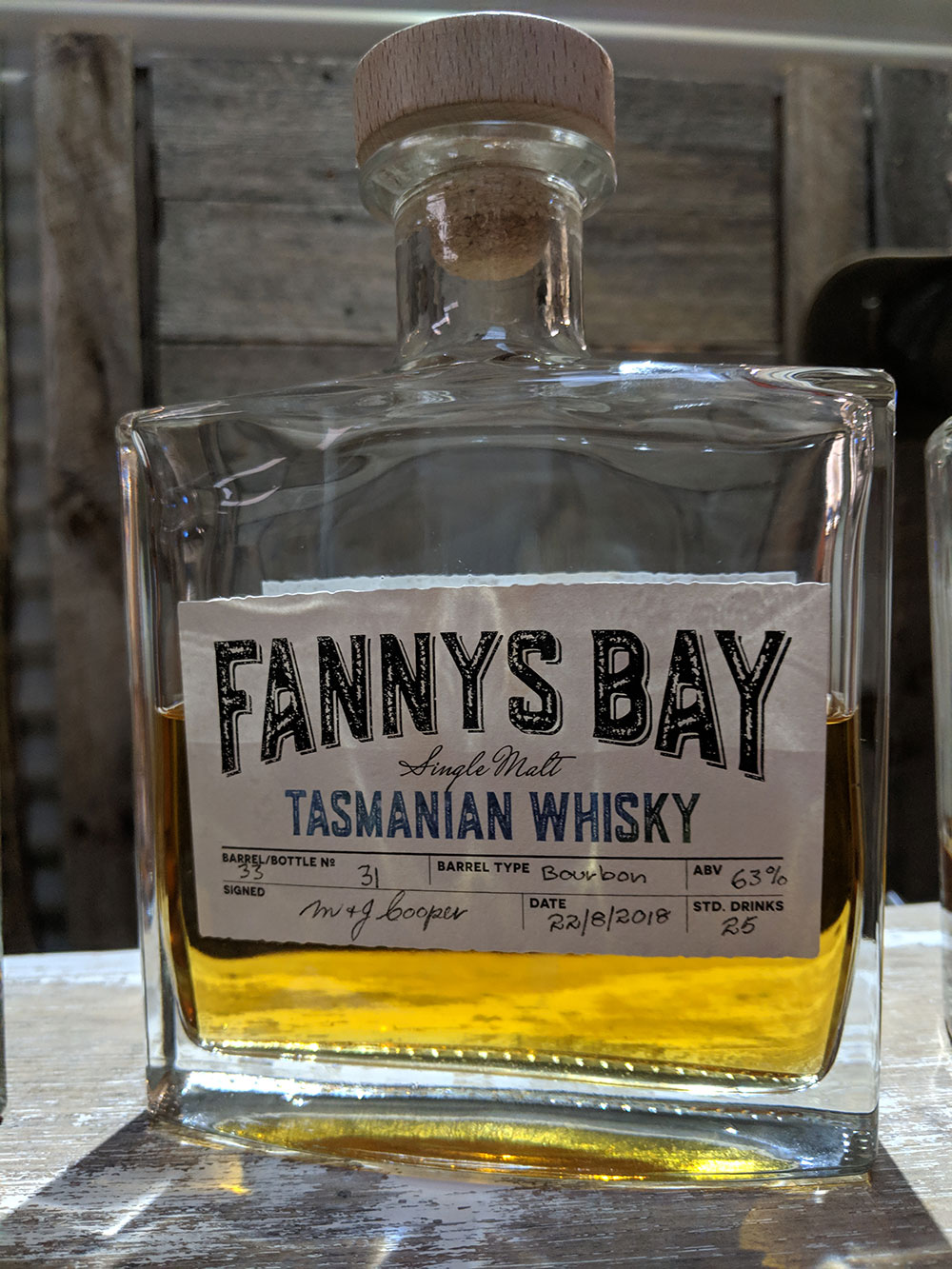 Bourbon Aged Barrel 46.6%abv Whisky
Colour:- Straw
Nose:- Caramel fudge with a citrus hint
Palate: Rich yet smooth, stone fruit, salted caramel
Finish: Long & lingering viscous
Approx: 18.5 Standard Drinks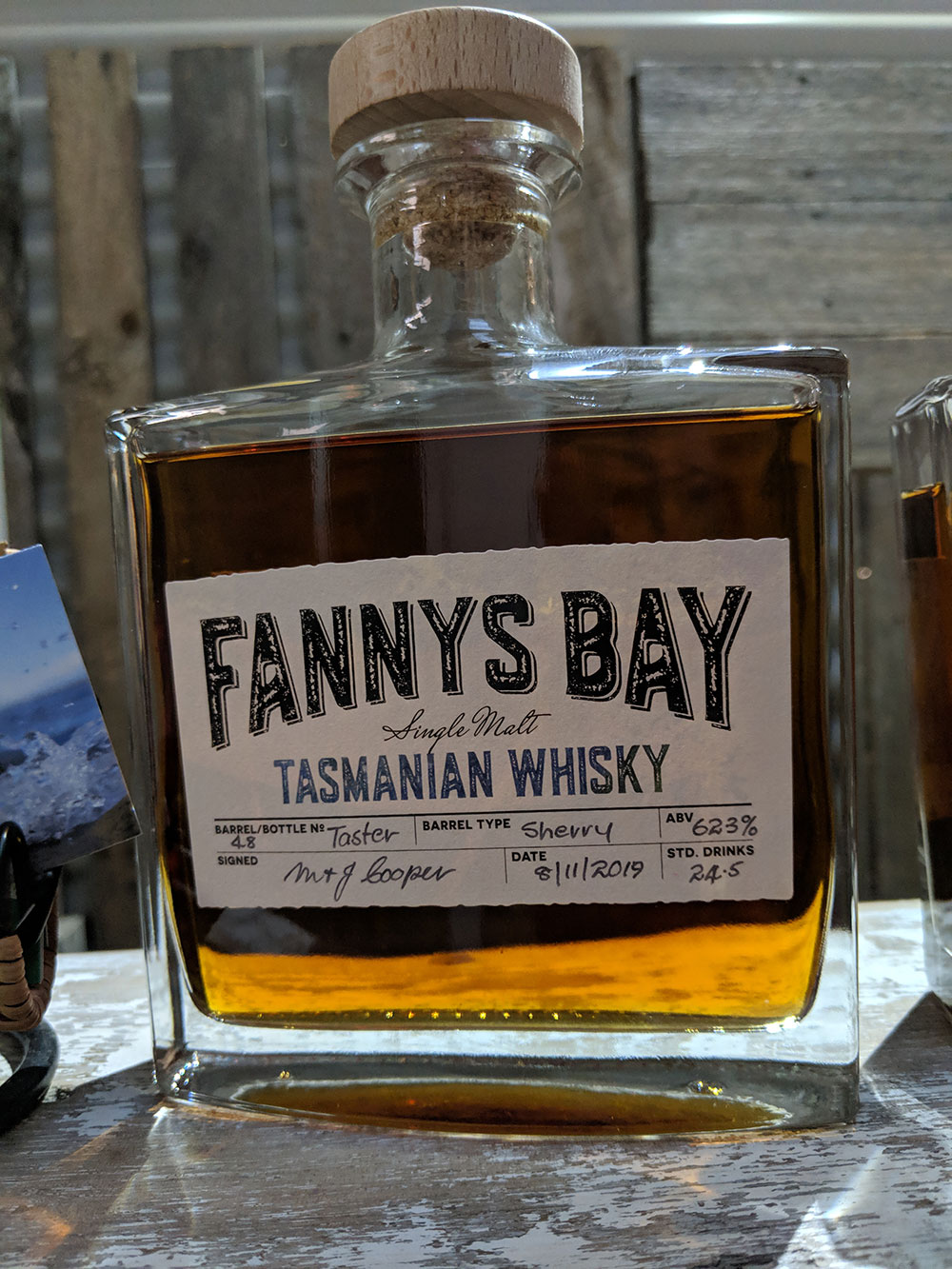 Sherry Aged Barrel 62.3%abv Whisky
Rich and fruity with a full palate, lingering and very addictive
Approx 24.5 standard drinks
Pinot Aged Barrel 65%abv Whisky
Colour: Golden
Nose: Gran-ma's homemade Christmas Pudding with spun toffee
Palate: Honey & demerara sugar yet fruity
Finish:- lingering saucy
Approx 25.7 standard drinks
Sherry Aged Barrel 43%abv Whisky
Smooth as, with burnt toffee & citrus hints, stewed fruits
Approx 17 standard drinks
It's a delicious drop!!!.
Cost
$10 each for a tasting and talk. Listen to Mathew share his passion for making a well rounded dram.
Bottle Prices
All cask strength 60% -65% varieties 500ml Whisky $295
All flocked 42%  – 47% varieties 500ml whisky $250
Contact Us
Mondays & Fridays from 11.00-4.00pm
Saturdays & Sundays 10.00 – 5.00pm
Please note this is a guide only, call first to ensure we are open. Other times available by appointment please call 0431 512 006. or sales@fannysbaydistillery.com.au
TRADE ENQUIRIES TO Irene Wicks sales@fannysbaydistillery.com.au Sign up for Special Releases and Events
Signup for our newsletter to receive information on special releases, offers and local events.

When are you open?
In general we are open Monday and Friday between 11am and 4pm Saturday and Sunday between 10am til 5pm.  However, this is a guide only, so please contact us first to make sure we are available for sales and to tour our distillery.  Feel free to call us on 0431 512 006 or  email sales@fannysbaydistillery.com.au
What makes Fannys Bay Whisky so unique?
Where can I purchase Fannys Bay Whisky
Jim Murrays Whisky Bible 2019
85–89.5 Very good to excellent whiskies definitely worth buying. 90–93.5 Brilliant. 94–97.5 Superstar whiskies that give us all a reason to live. 98–100 Better than anything I've ever tasted!
– Jim Murray
"
Allison and I had a fantastic time in Tassie for whisky week. We wanted to show our gratitude to Mathew and Julie for their hospitality in showing us around the distillery. I've already cracked my bourbon cask single malt that I bought and looking forward to trying many more.
– Wes and Allison Harder
"
85–89.5 Very good to excellent whiskies definitely worth buying. 90–93.5 Brilliant. 94–97.5 Superstar whiskies that give us all a reason to live. 98–100 Better than anything I've ever tasted!
– Jim Murray
Address
15 Seascape Drive, Tam O'Shanter, LULWORTH. Tas 7252
Licence
Liquor Licence 81413
Email Us
Click to contact us using our online form.
Phone 0402 624 793 or 0431 512 006